The organisation behind Nordic Championships 2022 consists of talented and dedicated people, all committed to bringing you the horse event of the year 2022. This series of posts will present some of the key people behind the event. Next up is Team Leader for Team Marketing & Media, Liz Mattsson.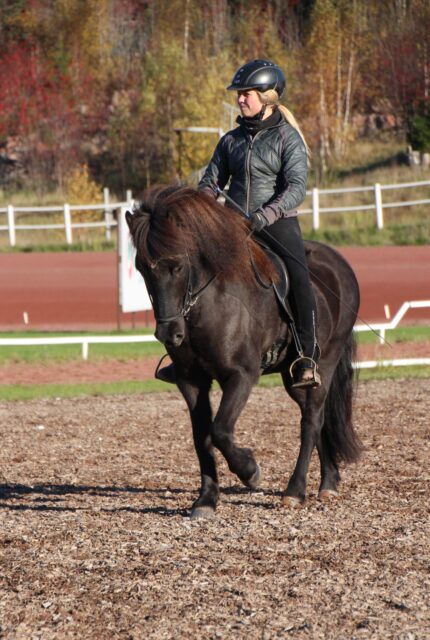 My name is Liz Mattsson, and I am the Team Leader for team Marketing and Media. I'm in charge of for example sponsors, all types of marketing activities, VIP, market street and tickets. My team consists of excellent people who all are experts in their own areas. I'm proud of our team that works really well together, despite the physical distance in between us!
I started riding as an 8-year-old in Åland, and got my first own horse when I was 15. Since then, I have had a handful of horses, and competed and trained actively. Today I have three horses of my own, Odina frá Bakkakoti, and Odina's two foals, 10-year-old Oskadis från Korsviken and 5-year-old Aldinros från Korsviken. I think that the transition from a young horse to an adult riding horse is an exciting process to see. I live on a farm in Åland with my partner Johan. We farm potatoes, onions and soon even apples. Last year we built a new stable on the farm, it is great to have the horses so close. Åland has fantastic training opportunities for horses and I hope that the Nordic Championships establish Åland on the Nordic horse sphere!
When I'm not at the stables, I work with various organisations that aim to develop the Åland countryside. Through my work, I have gained a lot of experience from project management and events in Åland.
Planning the Nordic Championships is a big task with many details. Communication is a key component of successful planning. It has been my dream to host the Nordic Championships in Åland for about 10 years and now it is coming true! I'm really looking forward to welcoming all the national teams to Åland and our venue. It feels fantastic to see the best Icelandic horses in the Nordic countries on my home turf. I believe that NC2022 will be a great, big horse festival in the middle of the Baltic Sea.