The organisation behind Nordic Championships 2022 consists of talented and dedicated people, all committed to bringing you the horse event of the year 2022. This series of posts will present some of the key people behind the event, starting with the Project Manager of NC2022, Tarja Nordman.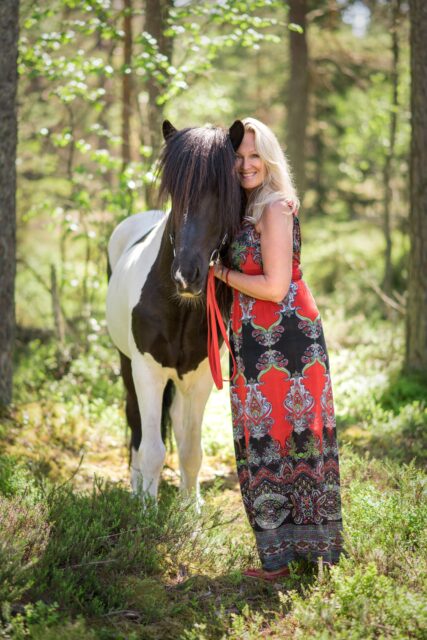 My name is Tarja Nordman and I'm the project manager for NC2022. I've previously managed different levels of competition, the most notable one being the Nordic Championships in 2010 in Finland, which is probably why I was asked to join this fantastic project! I've also managed several Finnish Championships, local shows and two tölt on ice competitions as a cherry on top of the cake.
I have two Icelandic horses of my own. Gammur fra Nedra-Seli is a 21-year-old 1st class breeding stallion that I've had for 12 years, and gelding Seifur frá Álfahlid, who has been a part of the family for just over a year.
We have a strong organisation, with five different levels. The Finnish Icelandic Horse Association and the local club Álenskur are at the highest level, as the owner of the competition. The management group consists of me as the project manager, competition leader Jens Andersén, and financial managers Maija Kipinoinen from the Finnish Icelandic Horse Association and Elin Andersén from Alenskur.  For this year's Nordic Championships, we've added more digital channels for cooperation and communication. Platforms and systems facilitate meetings and sharing of documents so that everyone is up to date with all information.
Planning an event this size requires knowledge and understanding from the smallest of details to the overall big picture. Our expert team leaders in charge of the planning are divided into different areas. Team Competition consists of team leaders Hanna Koskinen (GK), Anni Mainela (SPORT). Team leader for Service is Therese Ling, Team Infrastructure Pia Eriksson and Team Marketing and Media Liz Mattsson. 
Each team consists of various groups that oversee smaller areas of responsibility. These groups are led by chiefs. We also have several other volunteers, whose input has been invaluable! 
We are all driven by our mutual love for the Icelandic horse to plan and organise one of the best competitions ever.
Competition planning is truly accelerating as we approach August. The planning has definitely acquired a slight hint of excitement during the last few weeks! Figuratively speaking, the doors of the pace boxes have now opened and we are racing towards the finish line as the pace increases. We all look forward to a great competition and warmly welcome everyone to Åland, Finland this summer!