Saturday's first final was four-gait for juniors. After superb performances by all riders, Denmark's Palma Sandlau Jacobsen and Sjóli von Teland took the title of Nordic Champion V1J. Silver went to Lára Gardarsdottir Hesselman from  Sweden, riding Álfur från Knutshyttan. 
Norway's Elisa Lund Iskov and Arður frá Miklholti took the bronze.
Junior's continued to fight for this year's title in five-gait, where two riders competed. Sweden's Tekla Petersson with Vatnadís från Noastallet received the title of Nordic Champion F1J, with a final score of 6,69. The silver medal went to Maiken Berild Vold from Norway, riding Breki frá Miðsitju.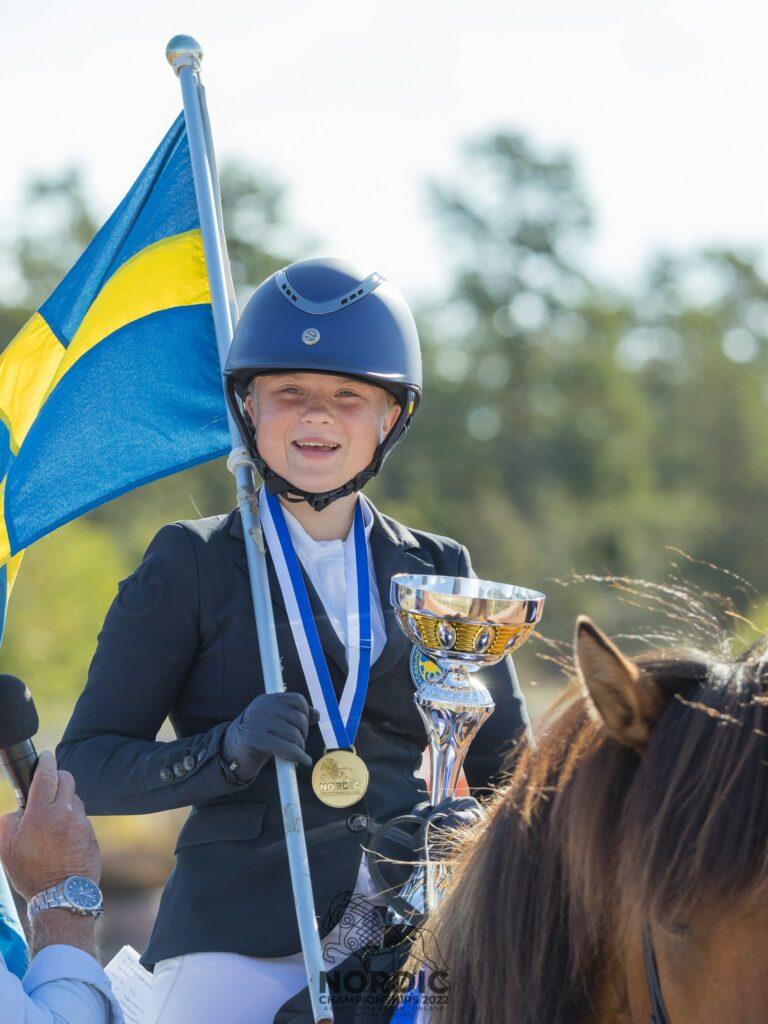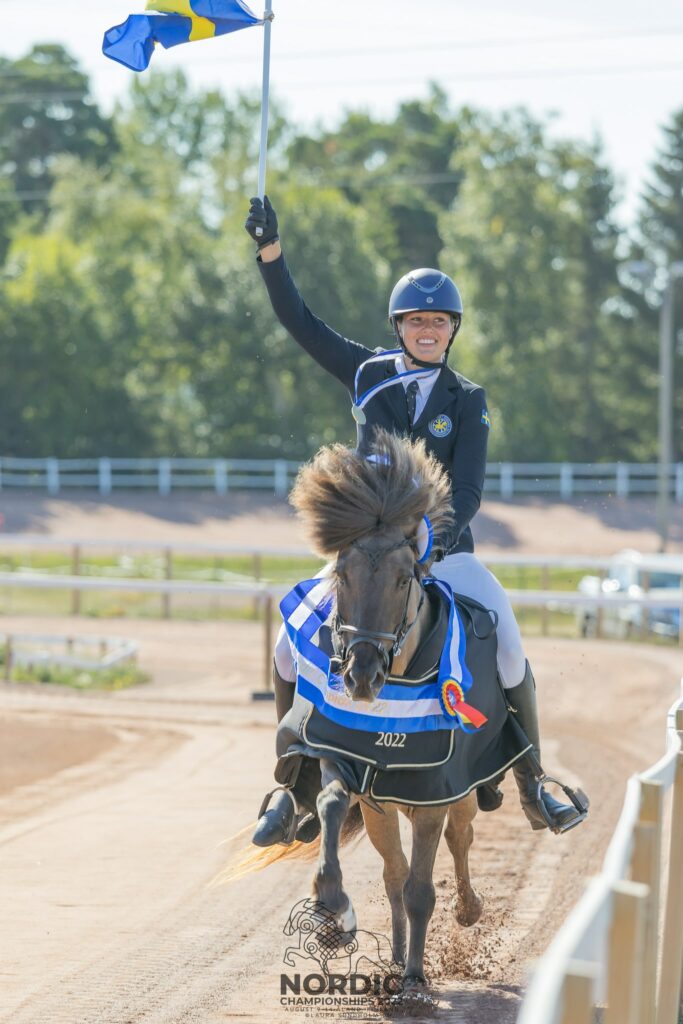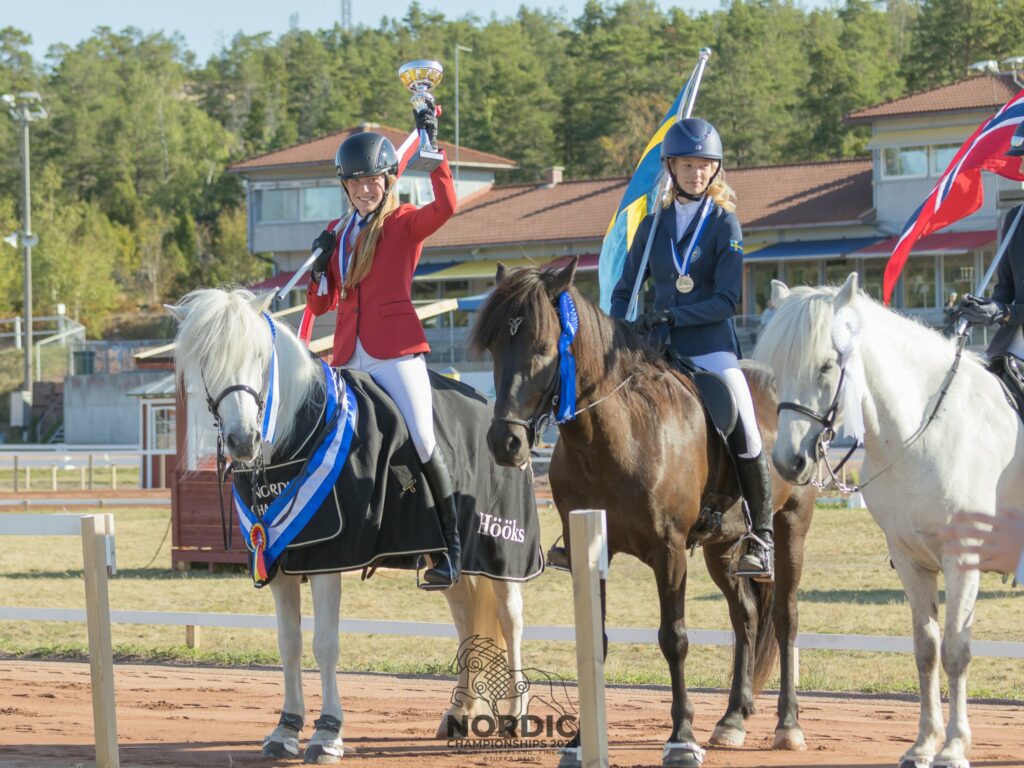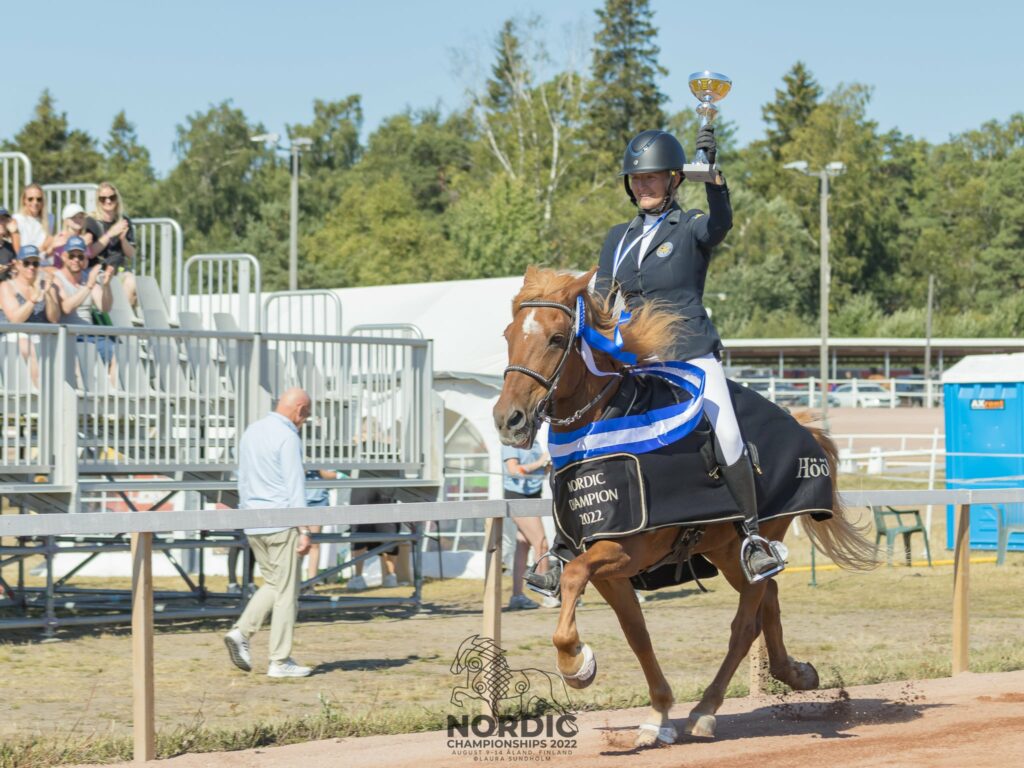 Up next was four-gait for young riders. The title went to Sweden, Beatrice von Bodungen Thelin with Hörður frá Varmadal receiving the highest points, 6,80. This year's silver went to Iceland, for Matthias Sigurðsson riding Roði frá Garði. The third place was shared by three riders, Hákon Dan Ólafsson and Viktor frá Reykjavík, representing Iceland, Luisa Husby Sem and Bakkus fra Grundet Hus from Norway and Saga Berggren and Kolfinnur från Margaretehof, representing Sweden.
Next title was fought in five-gait young riders. After an even final, Nordic Champion 2022 is Ebba Johannesen and Prins frá Blönduósi, from Sweden. Norway took silver and bronze, Ingrid Sofie Krogsæter and Vigri fra Rørvik in second place, and Aksa Mortensen and Gnýfari fra Fossan in third. 
The day continued with senior's T2 B-final. After a very even fight for a place in the A-finals, it was Norway's Christina Lund and Lukku-Blesi frá Selfossi who will be continuing into Sunday's A-final. 
In senior's T1 B-final, it was Iben Katrine Andersen, riding Gideon fra Tømmerby Kær who made their way into the A-finals..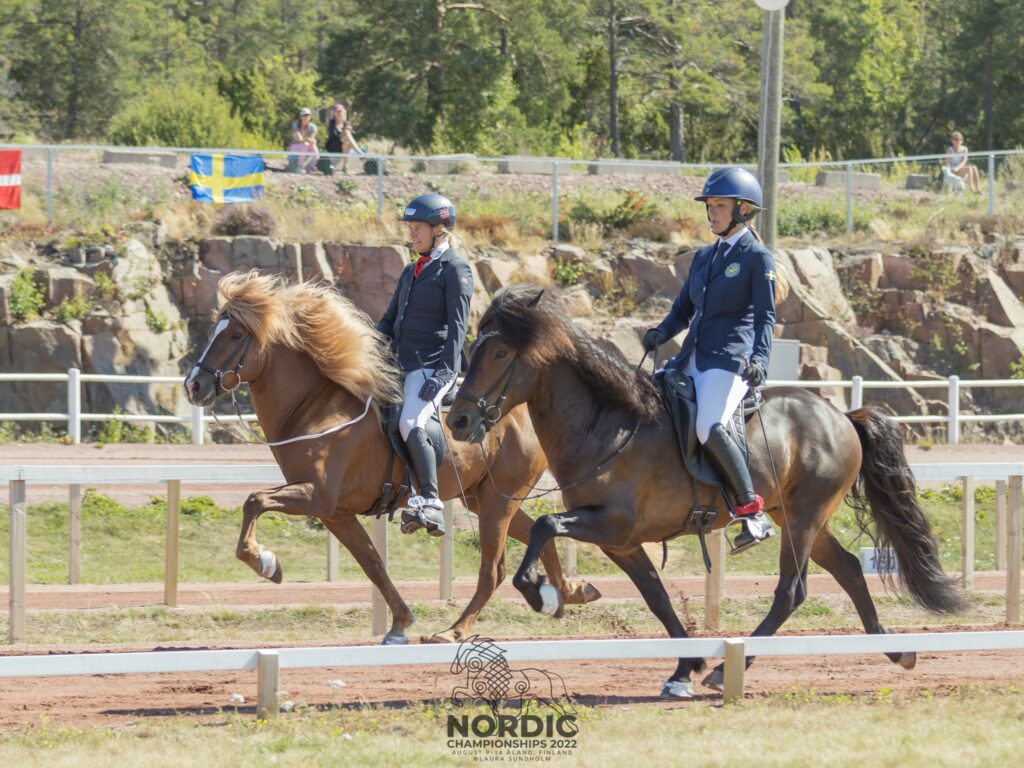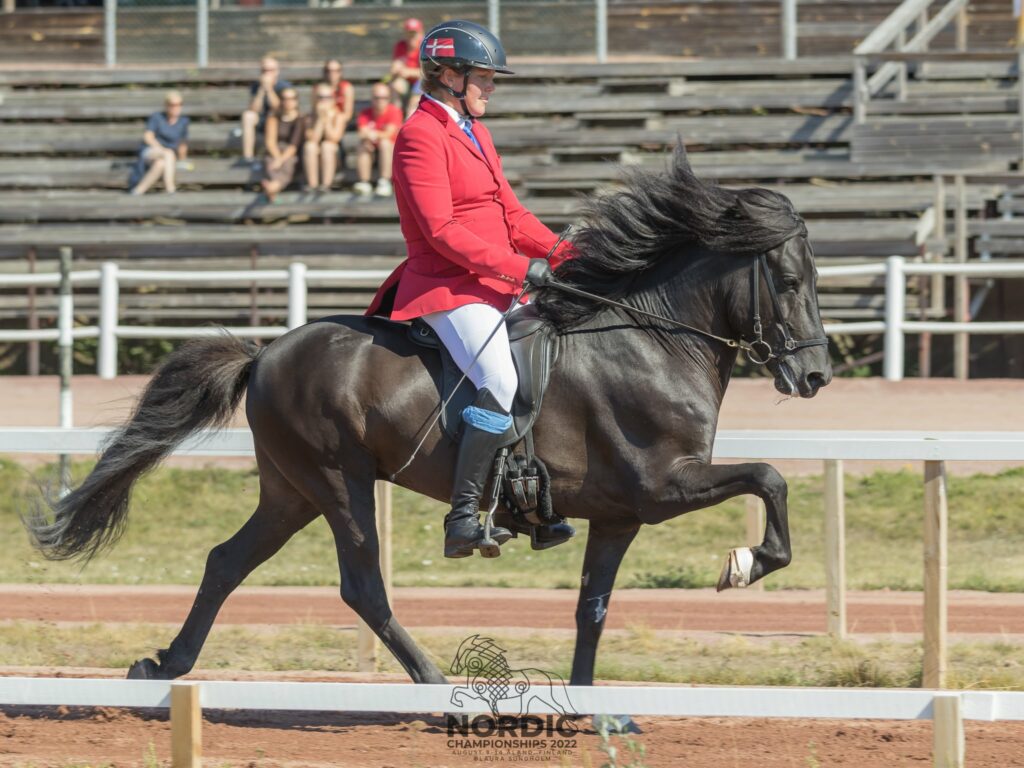 The day continued with GDA B-final, where  Karri frá Gauksmýri and Jenny Göransson continue onto the A-finals.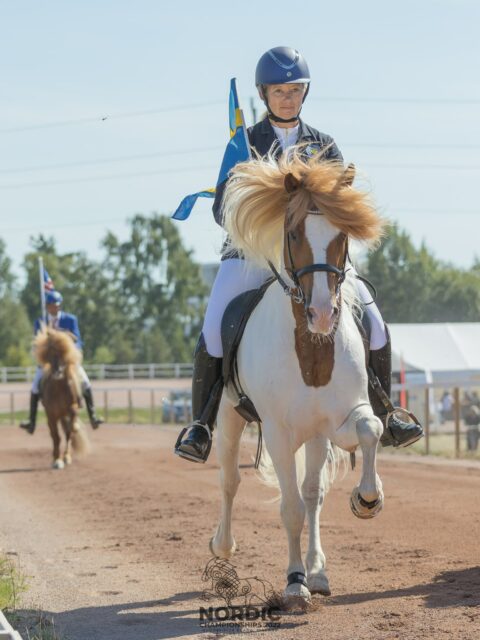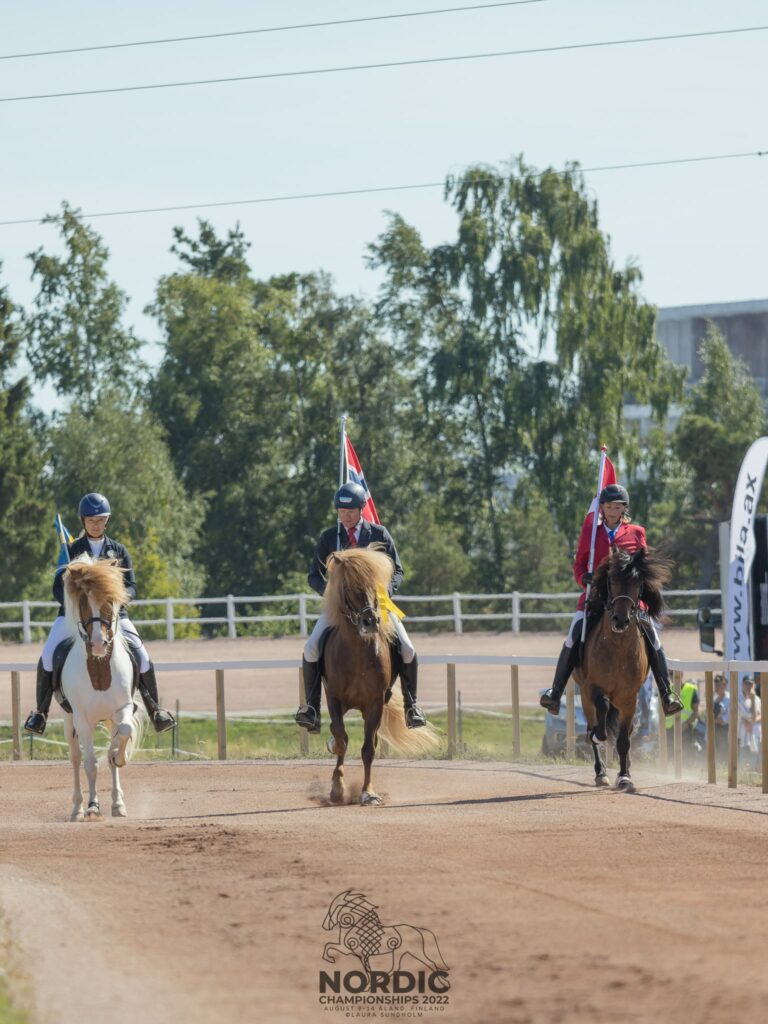 Then it was time to crown some more Nordic Champions!
Sweden combed home more medals as Lowa Walfridsson and Seifur från Skälleryd were crowned Nordic Champions 2022 in GDT. Silver went also to Sweden, and Tekla Petersson added more bling to her collection from the Nordics, with Vídd frá Lækjamóti. Matthias Sigurðsson and Caruzo frá Torfunesi took the bronze.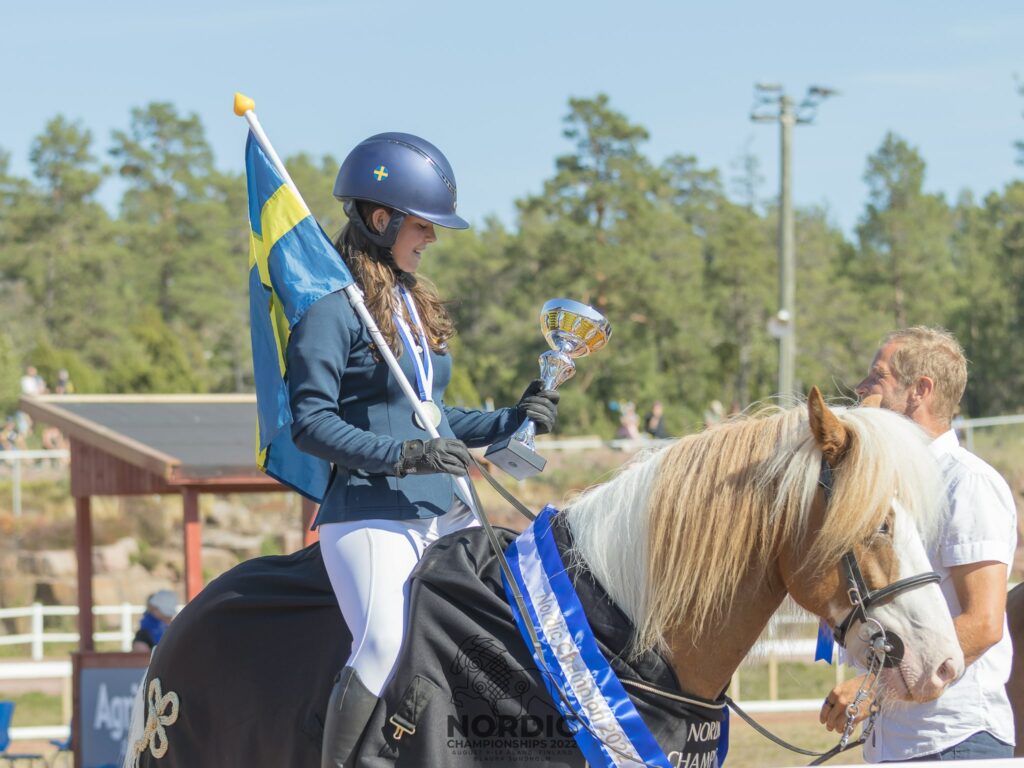 Continuing onto the young adult's class GDY, Eysteinn Kristinsson and Laukur frá Varmalæk are this year's Nordic Champions. Silver medal went to Sweden as Matilda Leikermoser Wallin and Hekla frá Steinnesi rode their way into second place. Alma Ýr Kellin Jökullsdotter and Amadeus från Allemansängen added up to Sweden's medal tally with another bronze.
The evening continued with heats 3 and 4 of P1 pace race. Taking the title in juniors was Sweden's Alice Niklasson with Kylja frá Hafnarfirði, whose best time was 26,60 in heat 1.
In young rider's it was the host country Finland's Gerda-Erika Viinanen and Svala frá Minni-Borg who took the gold. Gerda-Erika and Svala's best time was 23,63. The silver medalist was Sweden's Inka Kelahaara and Bíða frá Ríp. The bronze went to Norway and Aksa Mortensen riding Gnýfari fra Fossan.
The new Nordic Champion in senior's P1 is Filippa Hellten and Óðinn from Inchree, with a time of 22,52. Second place went to Denmark's Tania Højvang Jensen and Glúmur frá Þóroddsstöðum. Bronze medal will also travel to Denmark with Natalie Fischer, riding Ímnir fra Egeskov.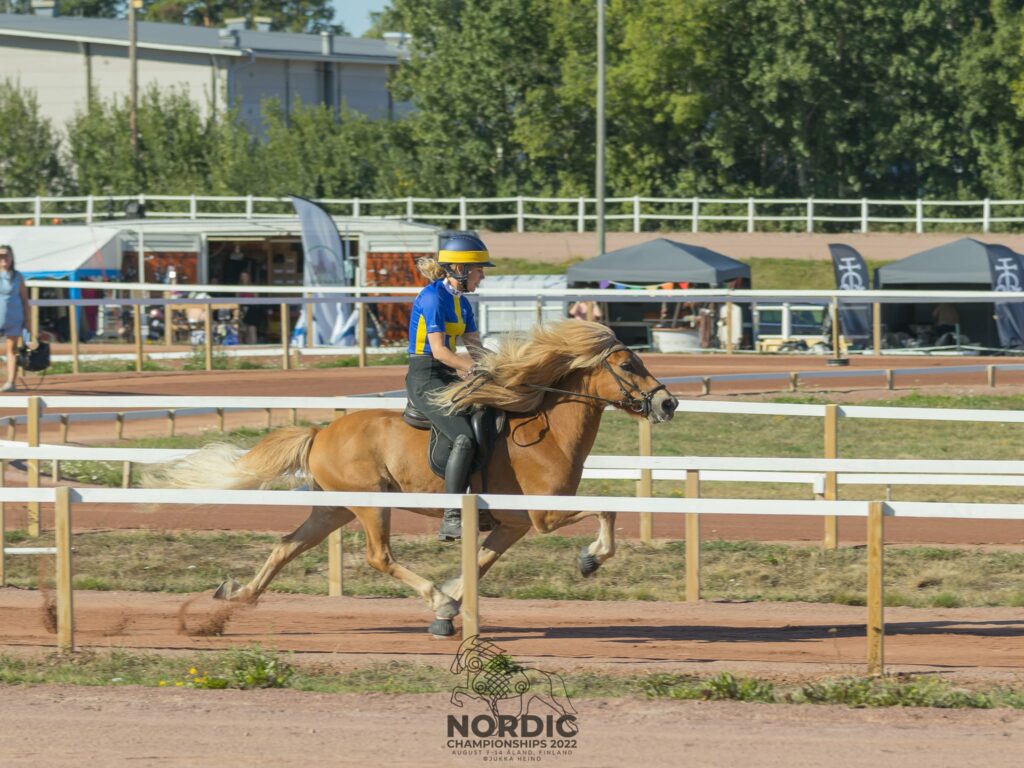 All photos: Laura Sundholm & Jukka Heino