What better way to start the last day of the Nordic Championships 2022 than P2 speed pace. Juniors headed on to the track first. Gold medal in this year's P2J went to Denmark, Mathilde H. Vestergaard and Skutla frá Kvistum raced the fastest with 8,94. In second place was Alice Niklasson and Kylja frá Hafnarfirði from Sweden, the winner of Saturday's P1J. Sweden's Tekla Petersson and Vatnadís från Noastallet come up third.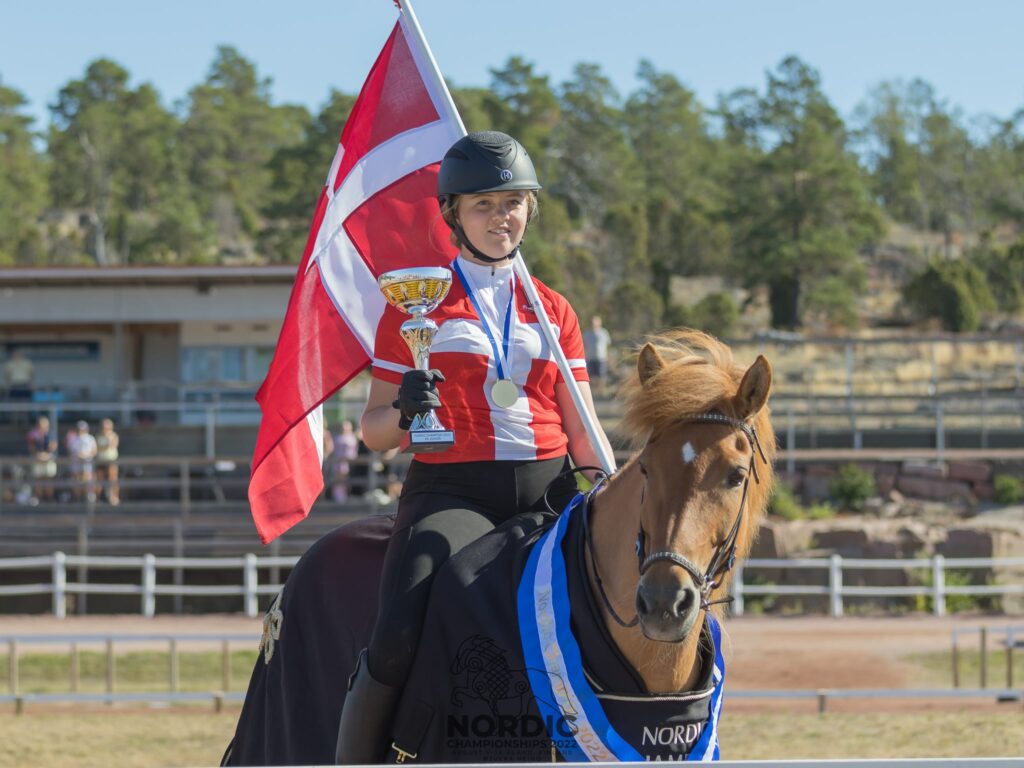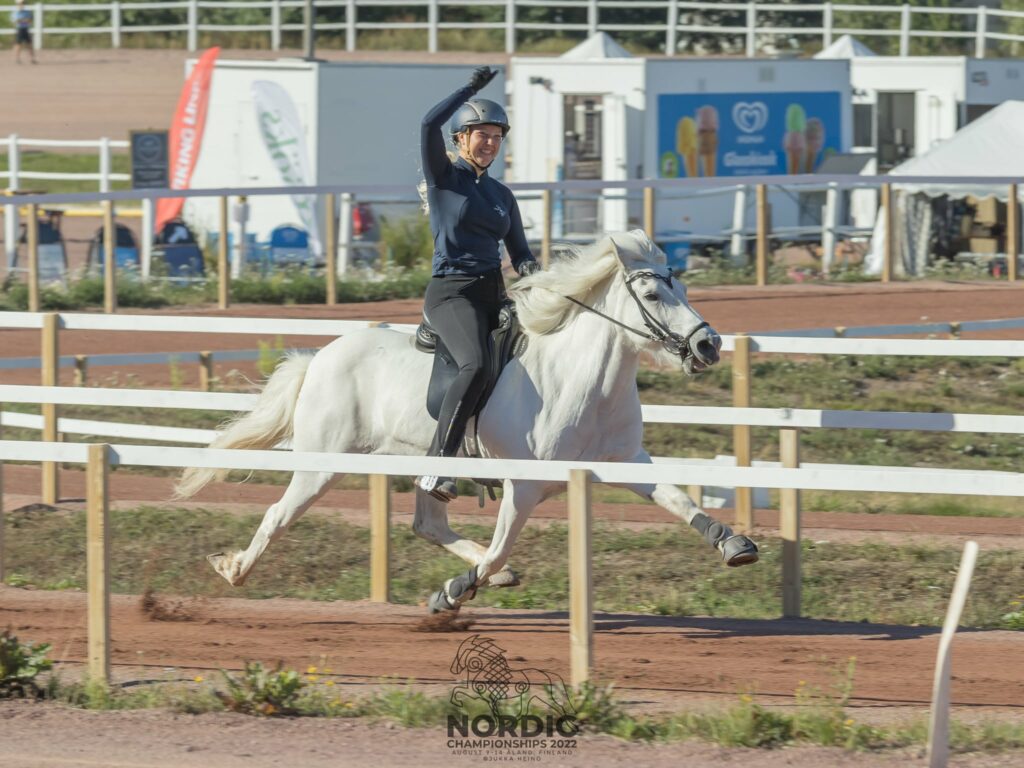 After speedy performances by all young riders, it was yesterday's P1YR gold medalist Gerda-Eerika Viinanen and Svala frá Minni-Borg who were the fastest, with 8,04″. The happy rider could just enjoy and cheer her way through the second heat as her win was already clear. Silver also went to Saturday's P1 silver medalist, Inka Kelahaara riding Bíða frá Ríp, and representing Sweden.
Denmark's Rebecca Hesselbjerg Taulborg  and Tindra fra Kirstineholm were the third fastest with a time of 8,28″.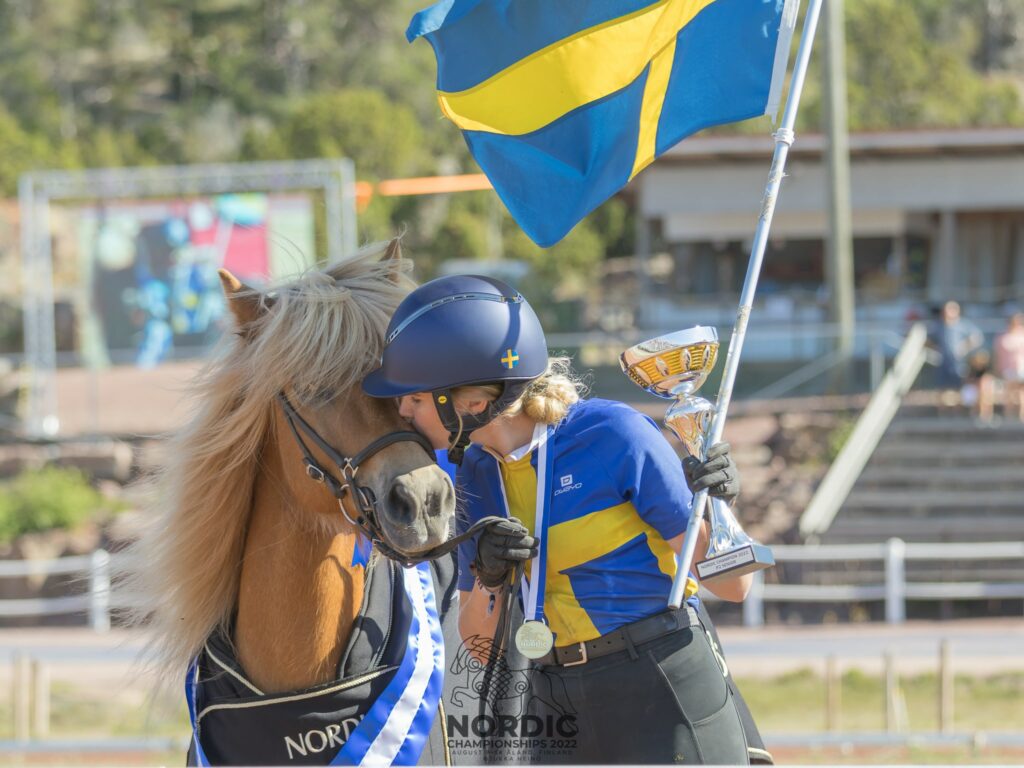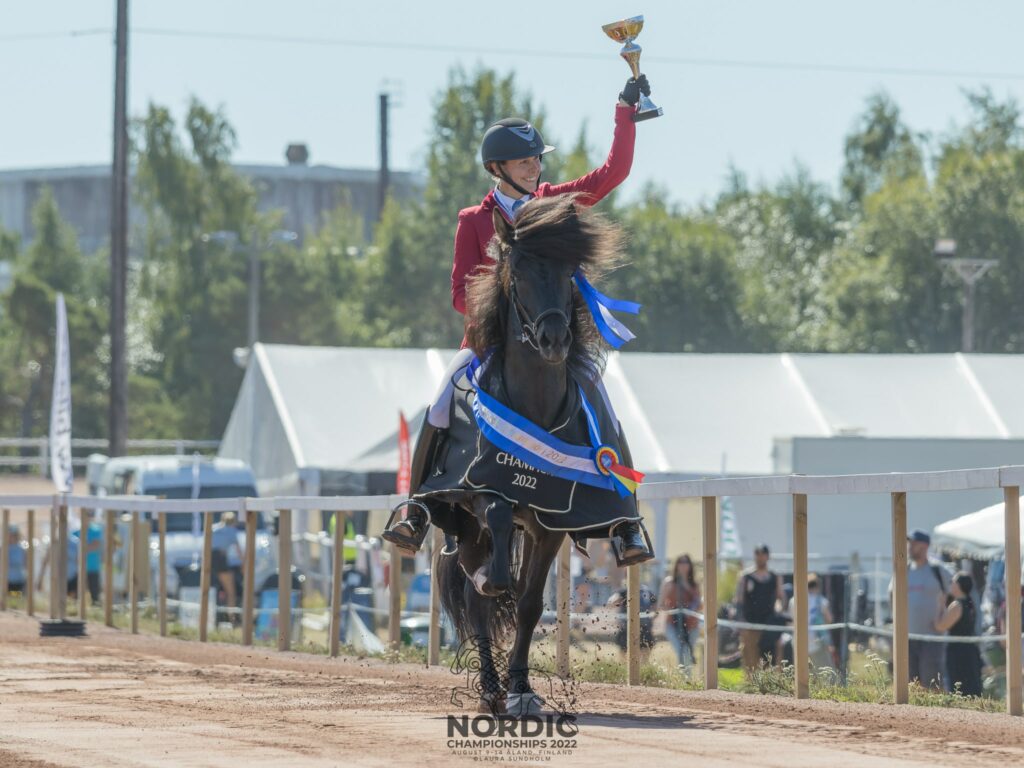 Senior's P2 was a gripping race all the way to the end, when the last three riders all took the leading position after their second race. After fantastic runs, the fastest was again Sweden's Filippa Hellten and Óðinn from Inchree. Their winning time was 7,50, taking the gold by 0,03 seconds.
Silver went to Tania Højvang Jensen and Glúmur frá Þóroddsstöðum, representing Denmark. 
Third fastest at the Nordic Championships 2022 was Norway's Caroline Wangen, riding Ógn frá Bessastöðum
First up in the exciting A-finals on Sunday were the seniors, riding in T1. Sys Pilegaard  and Abel fra Tyrevoldsdal were crowned Nordic Championships after a beautiful performance on the track. A shared silver medal went to Sweden, with Kristján Magnússon and Óskar från Lindeberg, and Jamila Berg and Toppur frá Auðsholtshjáleigu sharing the points 8,17.
Junior's were next on the oval track, competing for the title of Nordic Champion in T1 juniors. Sweden's Lára Gardarsdottir Hesselman and Álfur från Knutshyttan took the gold, followed by Palma Sandlau Jacobsen and Sjóli von Teland. Bronze medal goes to Norway and Elisa Lund Iskov, riding Arður frá Miklholti.
In young rider's T1, Matthias Sigurðsson, riding Roði frá Garði, rose from the preliminary round's 4th place to Nordic Champion 2022. Second place was shared between two riders: Norway's Luisa Husby Sem and Bakkus fra Grundet Hus and Sweden's Lowa Walfridsson and Dögg från Väbylund.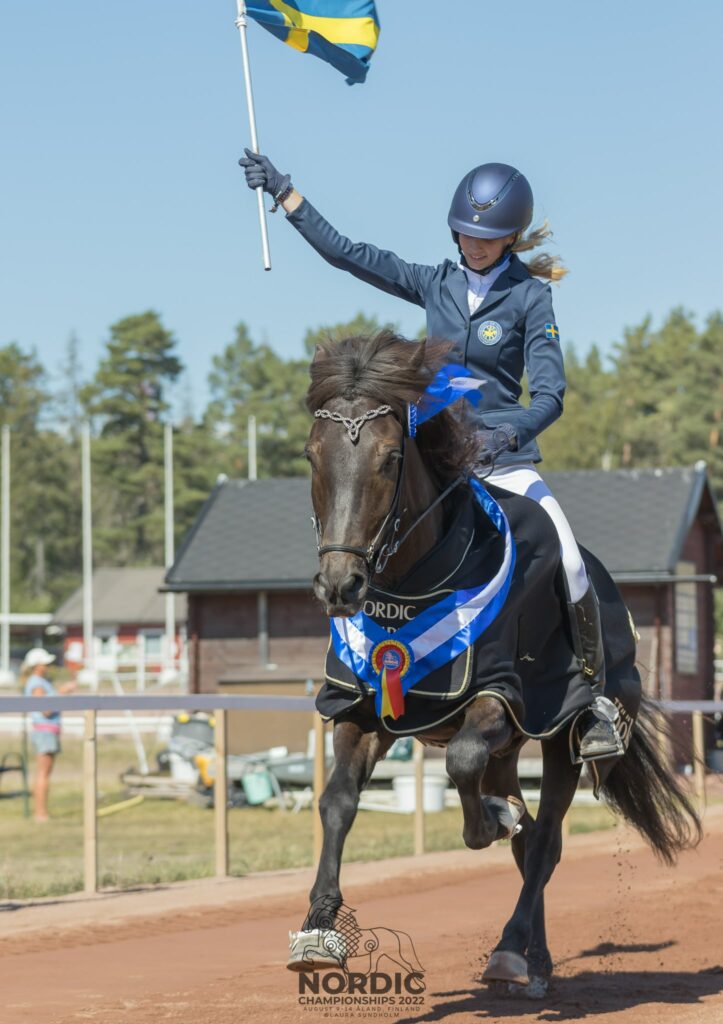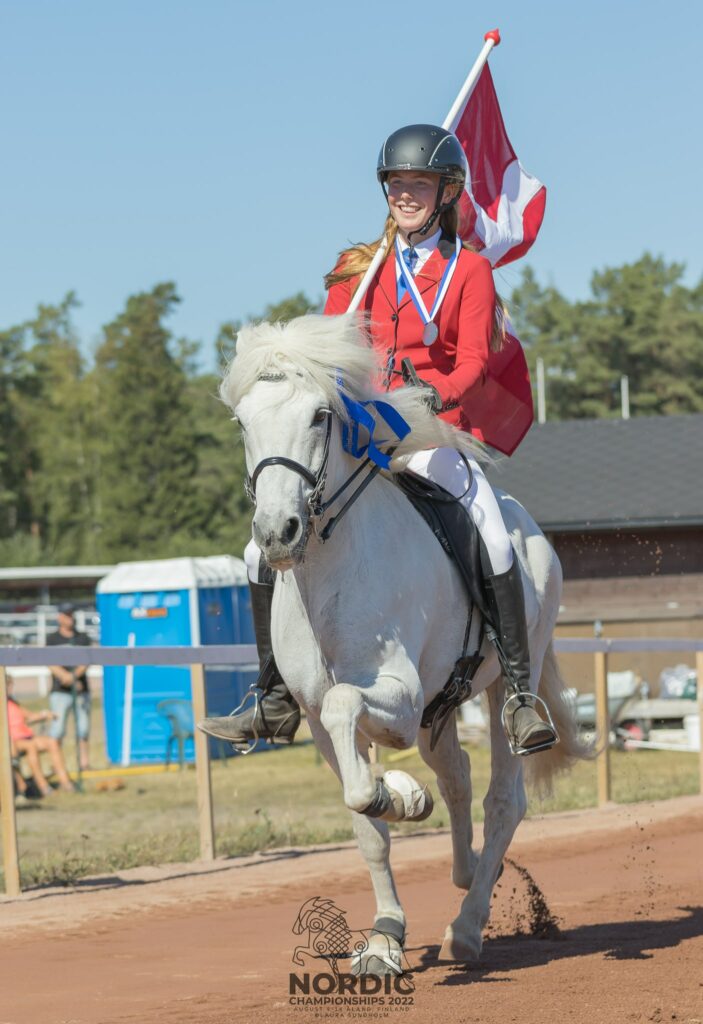 Last tölt final for these Nordic Championships was T2 for senior riders.
Coming in as the leader after the preliminary rounds, Julie Louise Christiansen kept the lead and was crowned Nordic Champion 2022, with Felix frá Blesastöðum. Silver medallist is Norway's Christina Lund and Lukku-Blesi frá Selfossi. Eyjolfur Thorsteinsson and Prímadonna från Dahlgården came third, representing Sweden.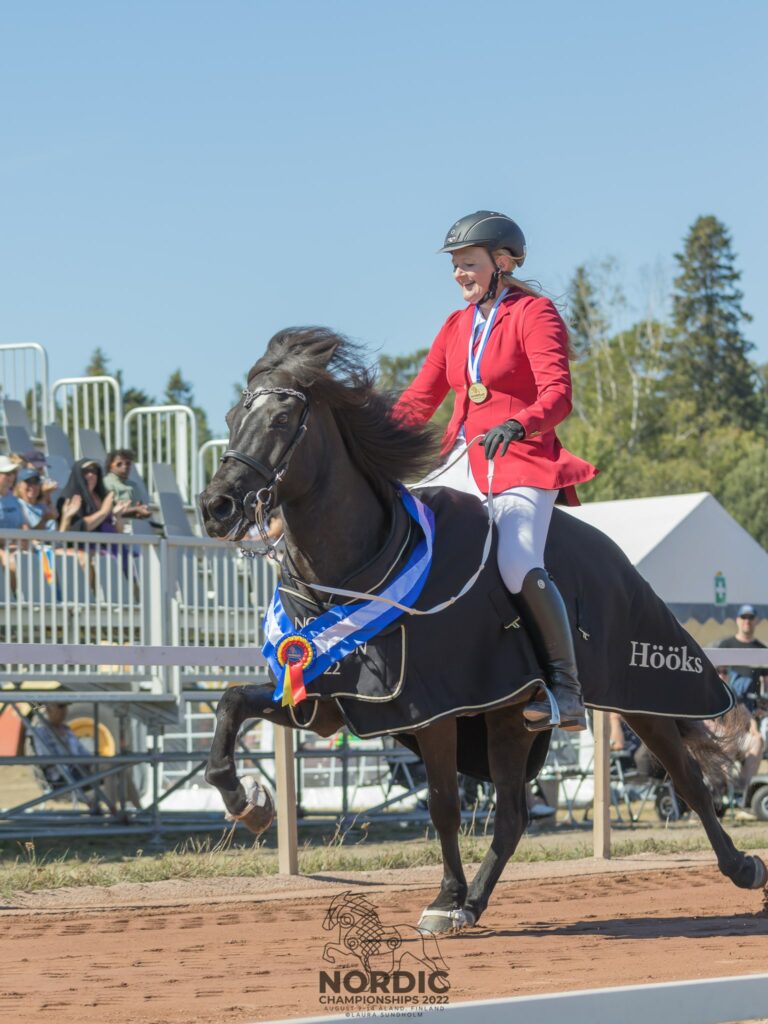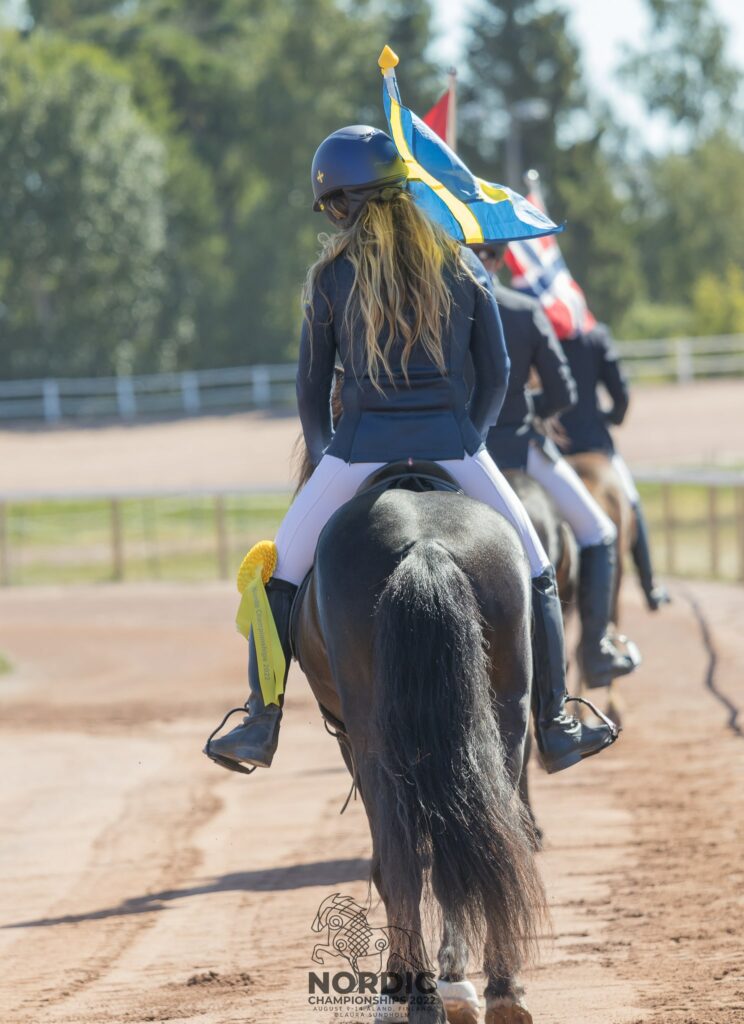 Continuing onto the A-flokk, it was Leikur frá Lækjamóti II, ridden by Helga Una Björnsdóttir who took the gold. The horse was ridden in the preliminary rounds by James Faulkner, who qualified into the finals with two horses and needed a reserve rider for Leikur, an arrangement which turned out more than well!
Second place went to Sweden,  Flosi från Rooslunda ridden by Karin Gunnarsson. This year's bronze medalist is  Laxnes frá Ekru ridden by Sigurður Óli Kristinsson.
B-flokk was the last of the gæðingakeppni-finals in these Championships. After superb performances by all horses and fantastic points, it was the Faroe Islands'  Kári frá Ásbrú that took the title, ridden by Knút A. S. Lützen. This was also the Faroe Islands' first medal of the competition!
Silver went to Sweden's Háfeti frá Úlfsstöðum, ridden by Eyjolfur Thorsteinsson. Another bronze was added to Denmark's haul by Pernille Lyager Møller and Rokkur frá Ytra-Vallholti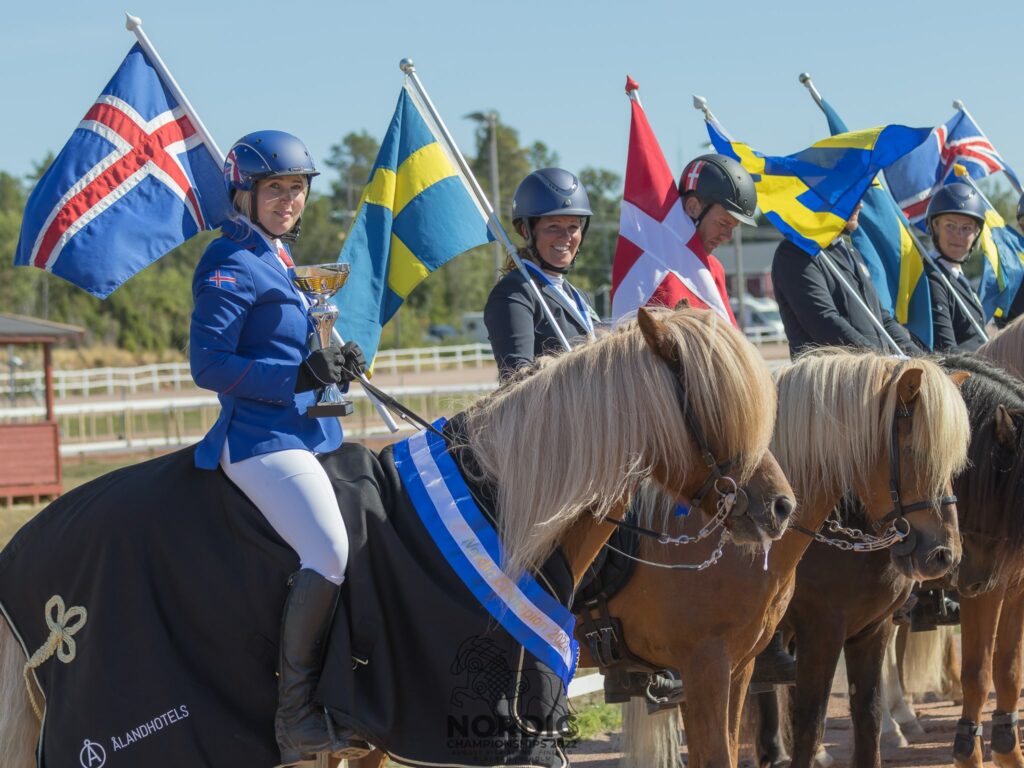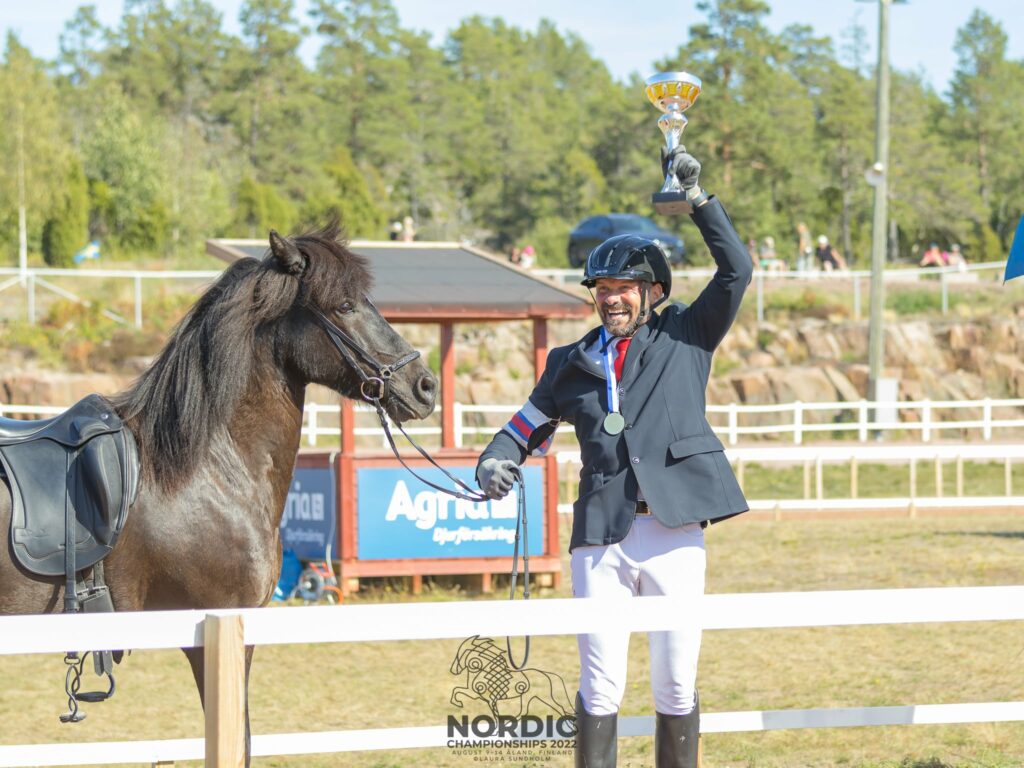 Senior's four-gait A-final was dominated by Denmark. After a very close competition for the title, it was Frederikke Stougård and Austri frá Úlfsstöðum who were crowned Nordic Champions 2022 in V1. Dennis Hedebo Johansen, riding Muni fra Bendstrup, took the silver. Bronze was shared by two riders, Trine Risvang and Hraunar frá Hrosshaga and Kristján Magnússon, riding Óskar från Lindeberg and representing Sweden.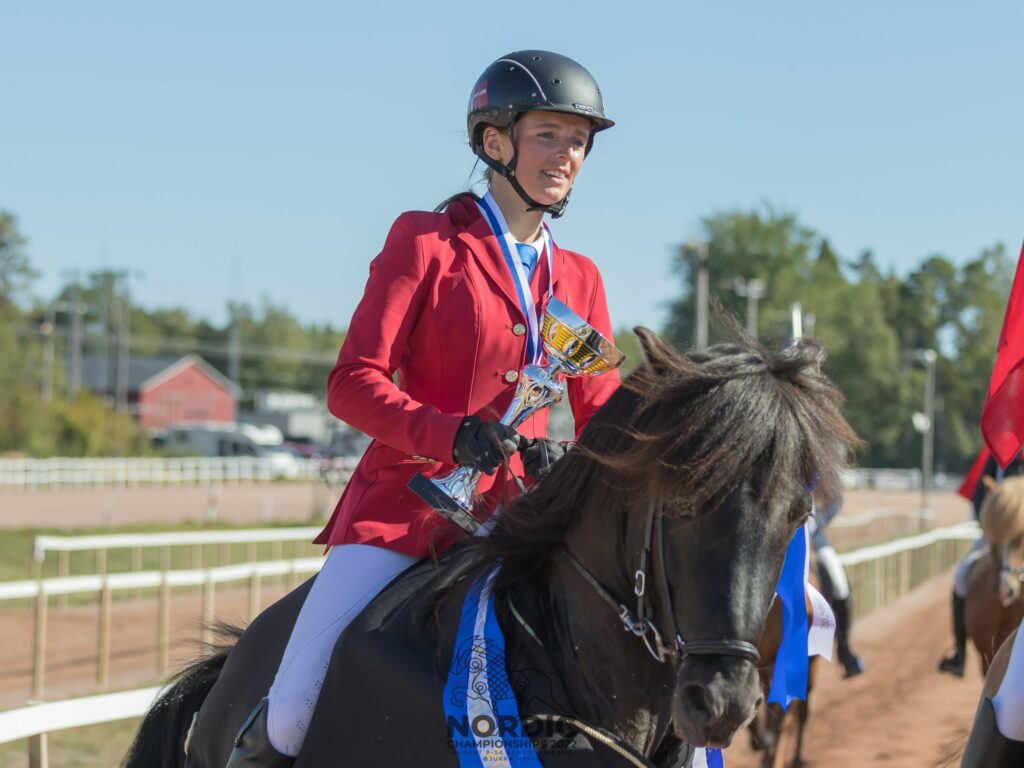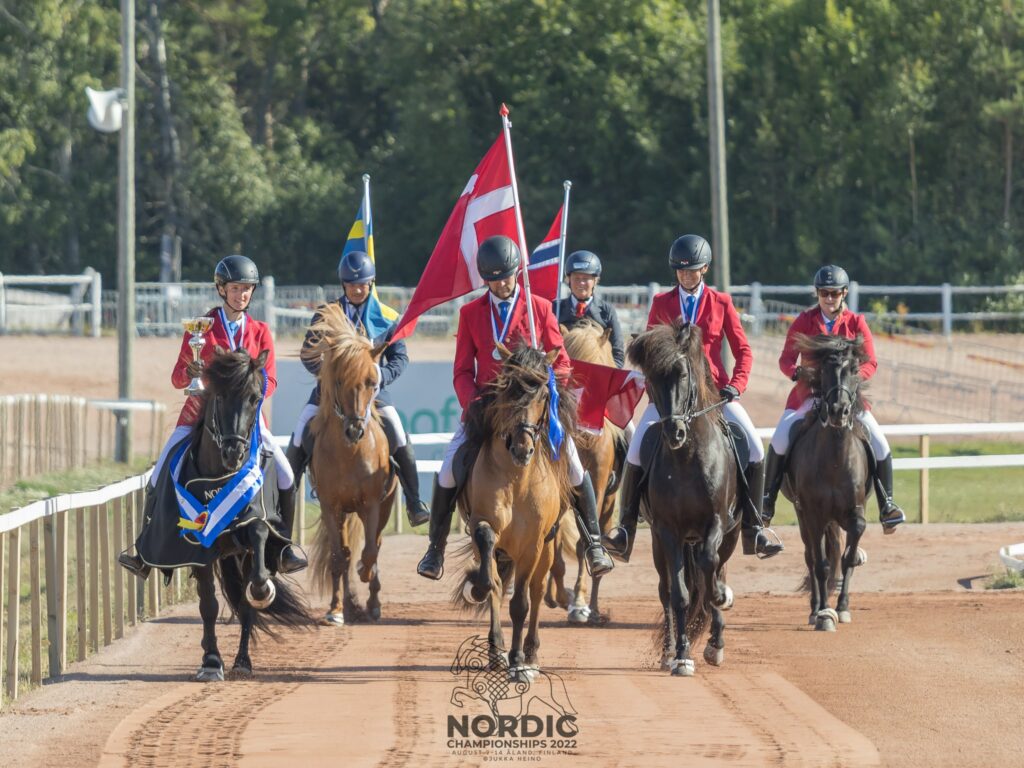 Last of the finals was senior's five-gait which provided plenty of excitement! Denmark's Jón Stenild  and Eilífur fra Teglborg were leading the final after canter but unfortunately lost a shoe right before the paces and had to drop out. Norway's Erik Andersen and Farsæll fra Midtlund raced on to receive the title of Nordic Champion 2022, followed by Anne Frank Andresen and Vökull frá Leirubakka, representing Denmark. Bronze medallist, also from Denmark, was Susanne Larsen Murphy and Völsungur frá Skeiðvöllum.
The evening continued with the crowning of the combination winners, who were as follows. 
Four Gait Combination:
Senior: Frederikke Stougård – Austri frá Úlfsstöðum, Denmark
Young rider: Beatrice von Bodungen Thelin – Hörður frá Varmadal, Sweden
Junior: Palma Sandlau Jacobsen – Sjóli von Teland, Denmark
Five Gait Combination:
Senior: Erik Andersen – Farsæll fra Midtlund, Norway
Young rider: Amelie Segerström – Kopar frá Sunnuhvoli, Sweden
Junior: Tekla Petersson – Vatnadís från Noastallet, Sweden
And then it was time to close the competition! What an amazing week it has been full of beautiful horses and performances. The closing ceremony had speeches from the competition management and the Honorary Consulate of the Republic of Iceland, Nils-Erik Eklund. During the ceremony the feather prize was handed out to Erik Andersen, for the encouragement of good riding and horsemanship and feather light riding.
All photos: Laura Sundholm & Jukka Heino

Contact details for photographers: horseeventphotos@gmail.com