Day three of the Nordic Championships 2022 begun with fantastic tölt moments in seniors T1 and T2. In T1, Denmark's Frederikke Stougård, with Austri frá Úlfsstöðum took the leading position, scoring a total of 8.30. Following close-by is Sys Pilegaard, riding Abel fra Tyrevoldsdal, with a total of 8.27.
T1 had 21 starts, getting a place in B-finals required a score of 7.73.
Senior's T2 had 15 starts, and Denmark in the lead heading into the finals. Julie Christiansen, riding Felix frá Blesastöðum, took the highest points, 8.07, followed by Sweden's Eyjolfur Thorsteinsson and Prímadonna från Dahlgården, 7.77. On a shared third place were Erik Andersen  with Farsæll fra Midtlund and Jessica Rydin with Rosi frá Litlu-Brekku.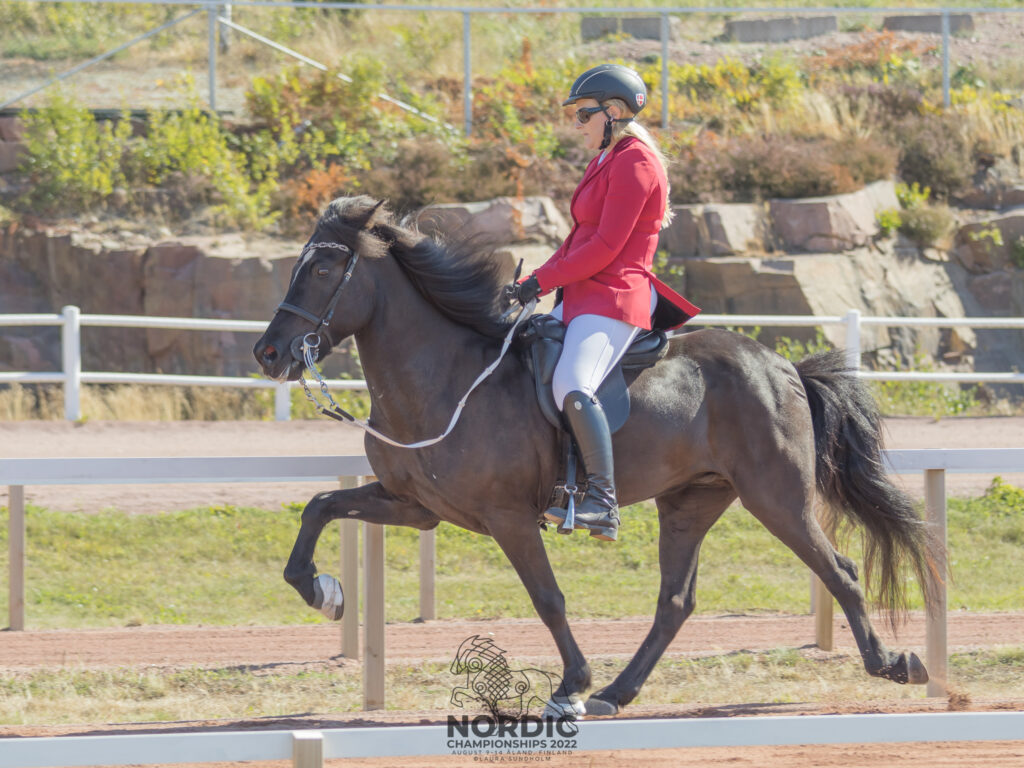 The first prize giving ceremony took place on day three, and three new Nordic Champions were crowned in PP1.
in juniors, the Nordic Champion 2022 PP1 is Tekla Petersson from Sweden, with Vatnadís från Noastallet.
Young rider Aksa Mortensen with Gnýfari fra Fossan, took the title to Norway, with a score of 6,50.
In seniors, Daniel Ingi Smárason and Hrafn frá Hestasýn were crowned Nordic Championship 2022, with a total score of 8,21.
The afternoon was filled with great gæðingakeppni-performances, First ones out on the track were teenagers in GDT (riders between 14 and 17 years old). With a total of 15 starts, Tekla Pettersson took the lead with Vídd frá Lækjamóti. The top three consists of Swedish competitors, in second place is Klara Nydahl with Bragi frá Kópavogi, followed by Lowa Walfridsson, riding Seifur från Skälleryd.
GDB, the four gaited class, had 15 riders, in the lead going to the finals is Sigurður Óli Kristinsson with Freisting frá Háholti, riding for Denmark.
Next up were young adults class GDY (18-21 years old), where 18 starts took place. Leading the class is Iceland's Eysteinn Kristinsson riding Laukur frá Varmalæk.
Last out in day three of the competition was the five-gaited class, GDA. Out of 18 starts, the highest scoring was Sigurður Óli Kristinsson, riding Laxnes frá Ekru, for team Denmark.
All photos: Laura Sundholm & Jukka Heino