Competition day 4, Friday, had a speedy start with first two heats of pace race P1,  the 250m race, with start from start boxes. (Read about the unique start boxes used at the NC2022 here.) The first two heats for juniors, young riders and seniors were ridden Friday morning, heat 3 and 4 will be completed Saturday afternoon. 
Juniors had two competitors, with Sweden's Alice Niklasson and Kylja frá Hafnarfirði receiving a time of 26,60 for their first heat. Denmark's Mathilde H. Vestergaard and  Skutla frá Kvistum received no time for their runs.
Fastest of the young riders after two heats was Gerda-Eerika Viinanen and Svala frá Minni-Borg, with a time of 23,63.
Leading into the second round of sprints in seniors is Filippa Hellten with Óðinn from Inchree, with a finishing time of 22,99.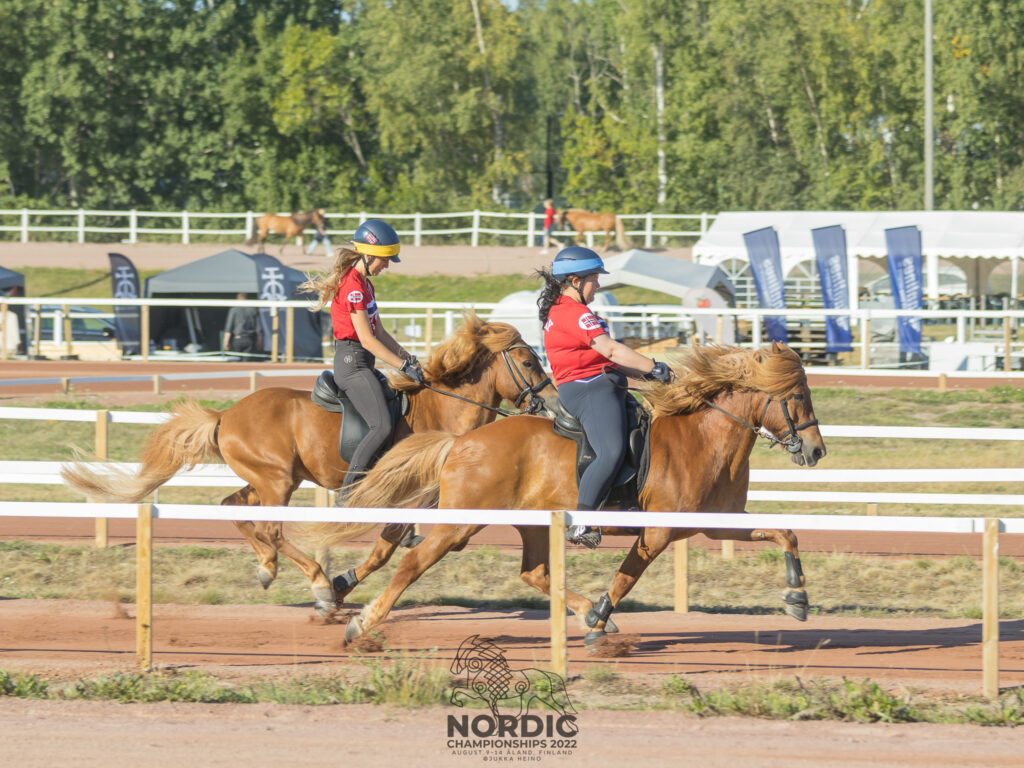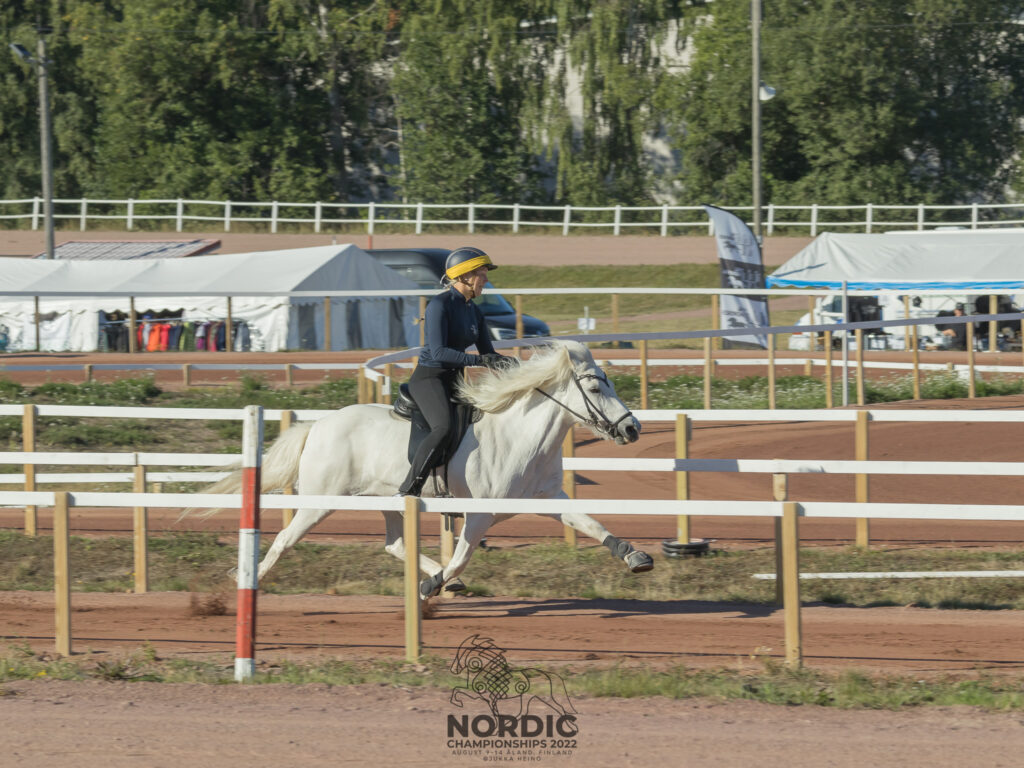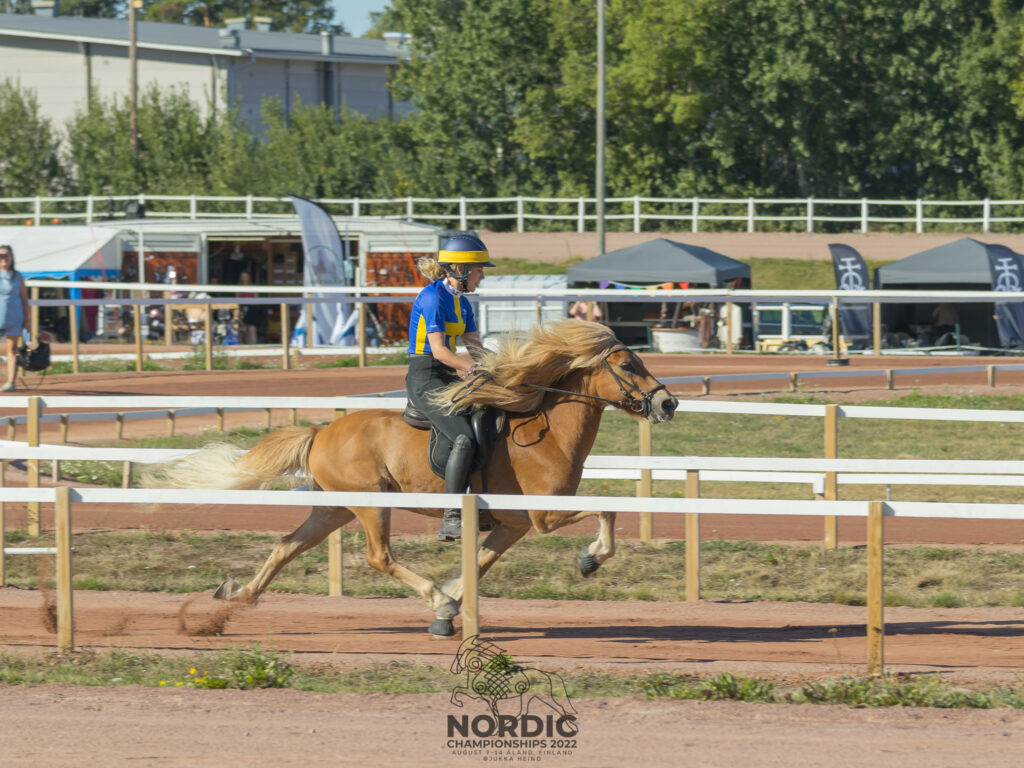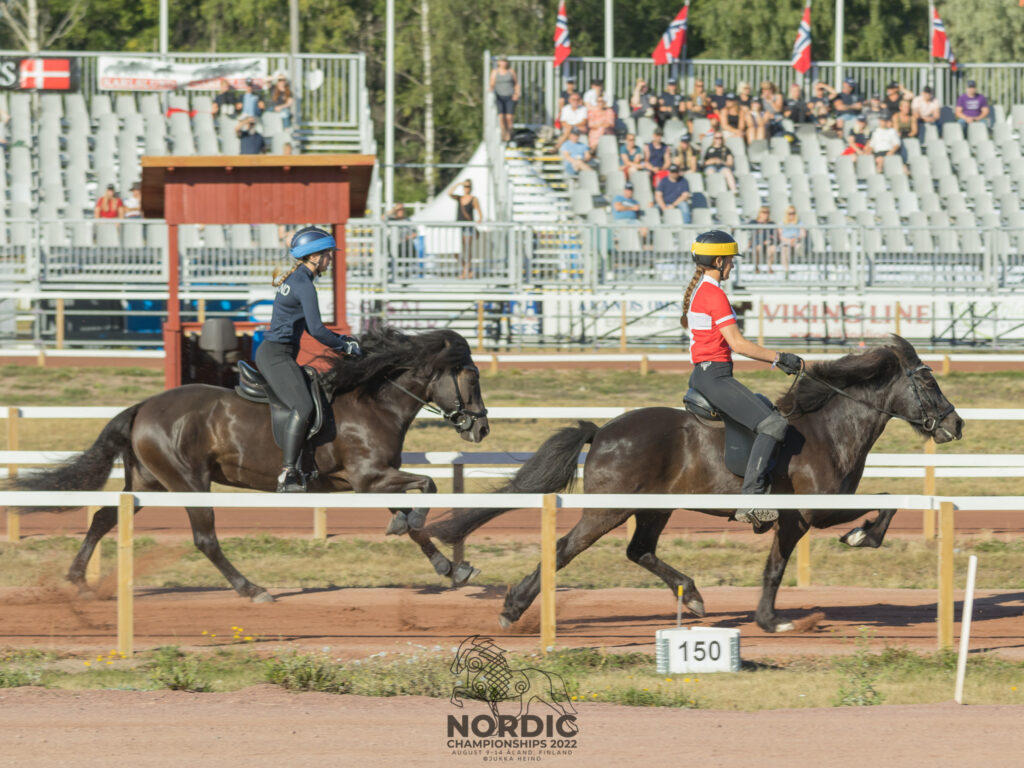 The rest of the day was filled with exciting finals! First ones to compete for a place in the A-finals were young riders in tölt T1. After steady performances by all riders, it was Klara Solberg from Sweden, riding Sabrína frá Fornusöndum who snapped up a place for Sunday's A-final.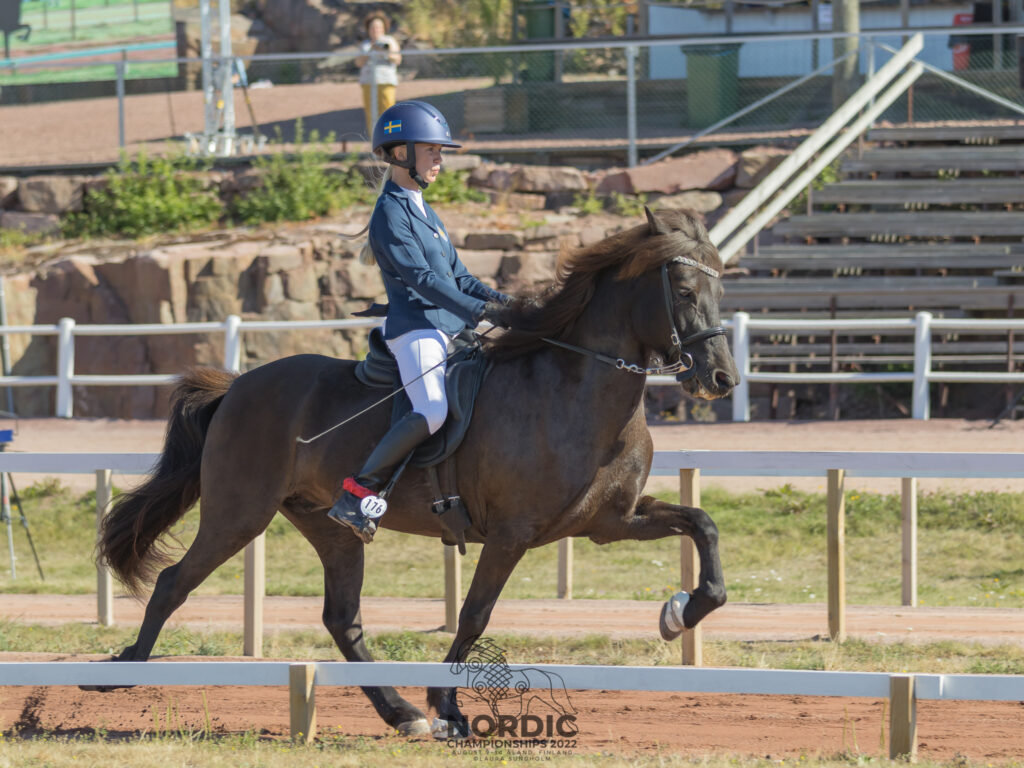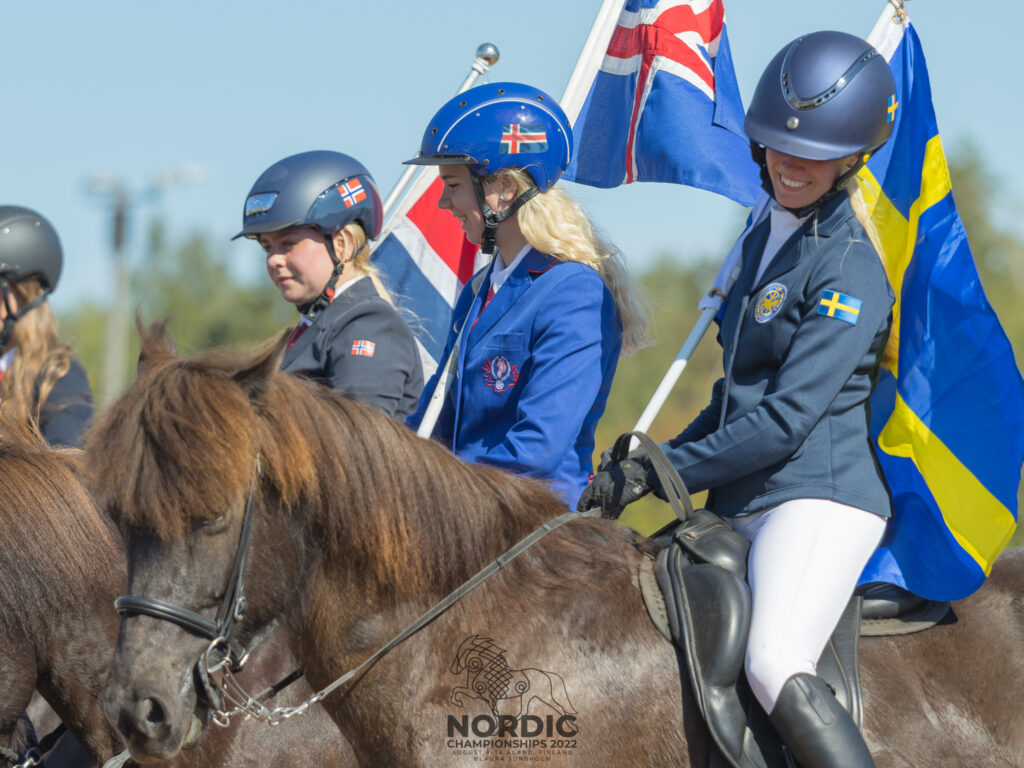 Next up was seniors' five-gait B-final where Denmark's Susanne Larsen Murphy with Völsungur frá Skeiðvöllum rode their way into A-final. 
Then it was time for the young riders to compete for a chance to ride in four-gait A-final. Saga Berggren and Kolfinnur från Margaretehof took their place in Saturday's A-final.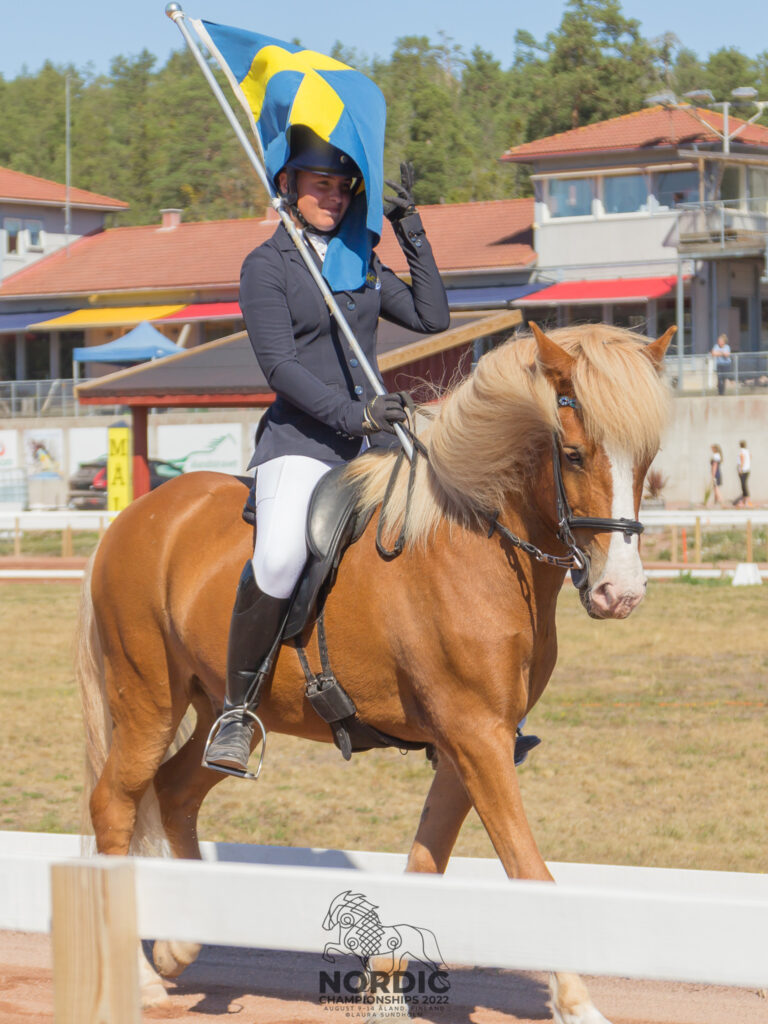 Competing for the title of Nordic Champion in T2 juniors were three riders.  11-year-old Óskar Erik Kristjánsson with Sólfaxi frá Sámsstöðum, representing Denmark, took the gold with proud parents Julie Christiansen and Kristján Magnússon, both also competing, cheering on. This year's silver medallist was
Tekla Petersson – Vatnadís från Noastallet, Sweden  and Julie Thorsbye Andersen from Norway took the bronze, riding Dropi frá Tungu.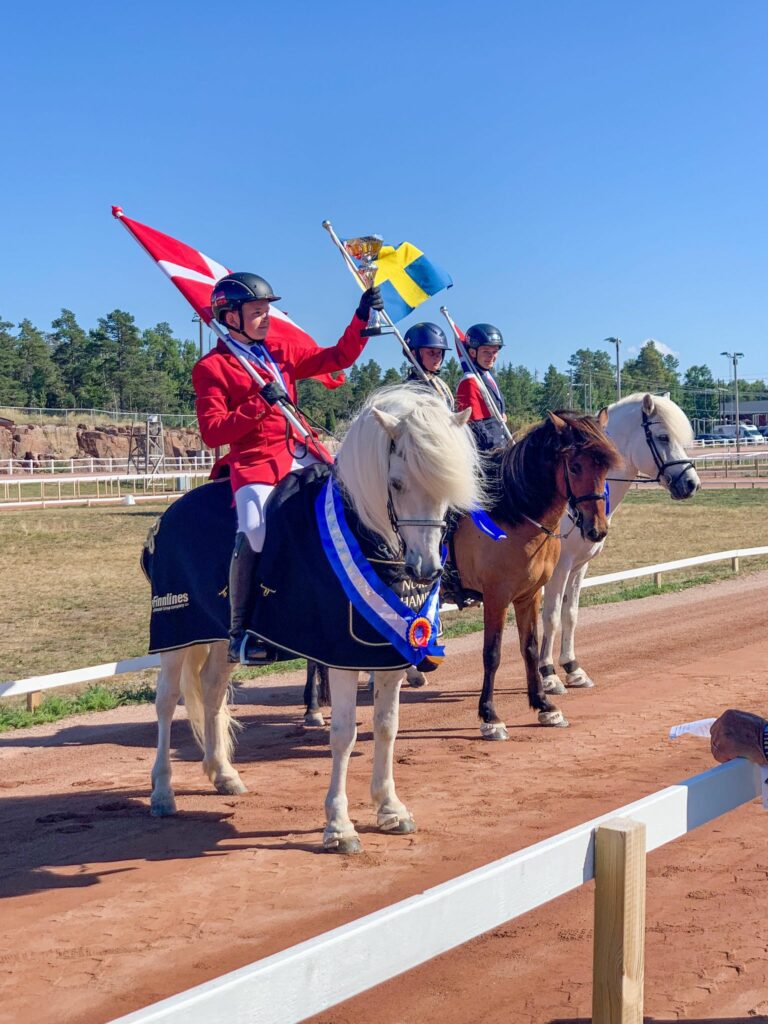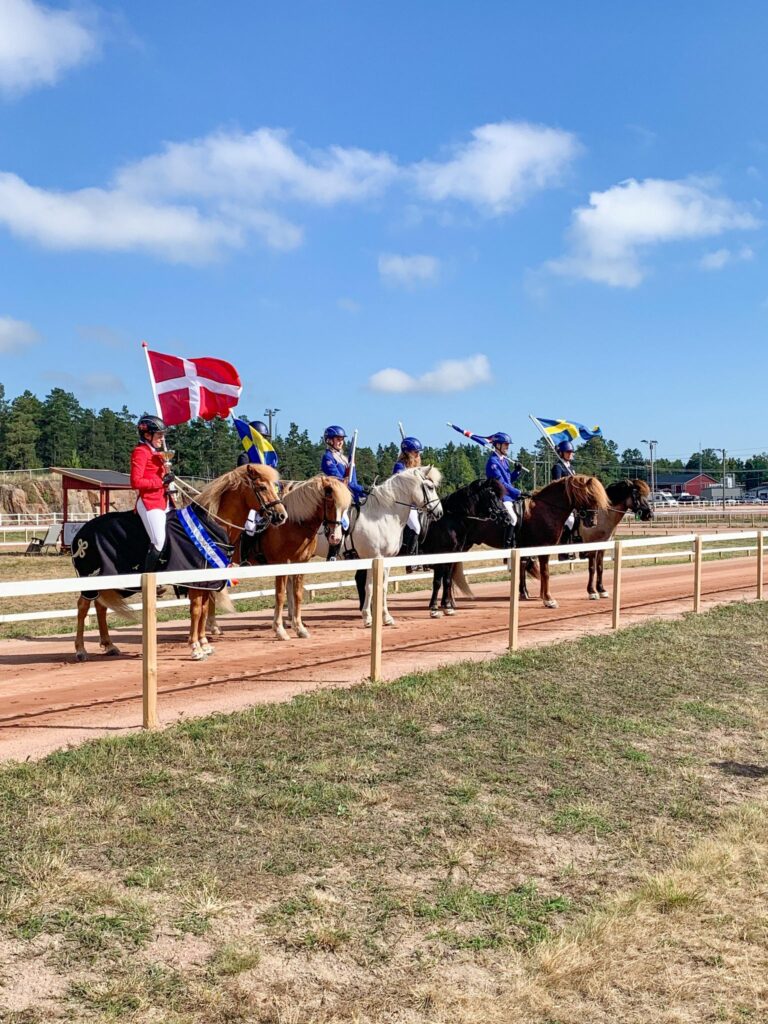 Gæðingakeppni finals kicked off next, with GDT B-finals first up. Ylur frá Hvítanesi and rider Maren Brandsgård Skaug fought their way into the A-final, competing for Norway.
In GDY B-final Gumi frá Dallandi, ridden by Oskar Fornstedt from Sweden, were the highest scoring, securing a place in the A-finals.
In GDB B-final, Kári frá Ásbrú and rider Knút A. S. Lützen from the Faroe Islands made their way into the A-final, receiving excellent marks for their fast tölt (one 9,0 and one 9,1).
Finishing off day four were young riders, competing in the five-gait B-final. After a very even competition, two riders received the same total score of 6.36, heading into the A-final. The riders are Ingrid Sofie Krogsæter from Norway, riding Vigri fra Rørvik and Ebba Johannesen, from Sweden, with Prins frá Blönduósi
All photos: Laura Sundholm & Jukka Heino